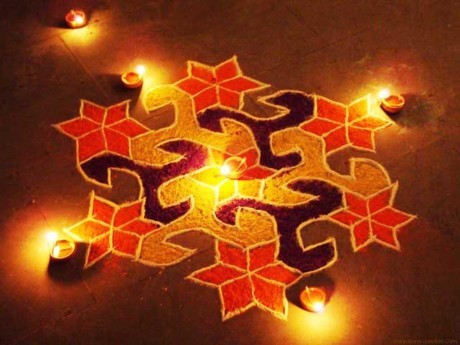 Rangoli has long been one of the most decorative forms of art work in India. Essentially being made of sandstone or dyed rice flour, this rich art is used extensively throughout the country during festivals to bring colour and life.
Mayuri, a Rangoli designer from Kochi, says, "Rangoli designs are conceived with much aesthetic sense. These symbolic designs are handcrafted to perfection by a talented artist's hand. The peacock and Ganesha are commonly used symbols and are considered auspicious."
During Deepawali time, the women of the house gather together to decorate open spaces with these beautiful designs. Depending on the dexterity of the hand, the designs can vary from being simple to intricate.
Rangoli is traditionally a North-Indian art. However, it has spread across states and is practiced in many communities and festivals in South-India also. In Tamil Nadu, a similar art similar is practiced – known as Kolam, wherein the entrances of homes are decorated with white-coloured powder designs. The patterns used are unique to different areas. Each state has its own popular patterns for Rangoli that are used by the womenfolk to adorn the house.
At weddings, Rangoli is considered to be particularly auspicious. Placing diyas around the designs is not uncommon during festive times. In north-Indian themed weddings, this art is considered almost essential.
Rangoli Designs …
Rangoli designs have many associations across India. Even the colours and shades used have distinct symbolization in Indian culture. Rangoli is considered to be the north-Indian version of the pookalam, only with difference in the material used.
Look through attractive rangoli designs at : http://www.stylecraze.com/articles/amazing-rangoli-designs-and-patterns-that-you-can-try-too/
Tamarind Weddings can incorporate north-Indian themes into traditional weddings. The wedding planners at Tamarind Weddings have a good network with rangoli artists in Kerala. To know more : mail@tamarind.co.in
Recent Posts
Recent Comments