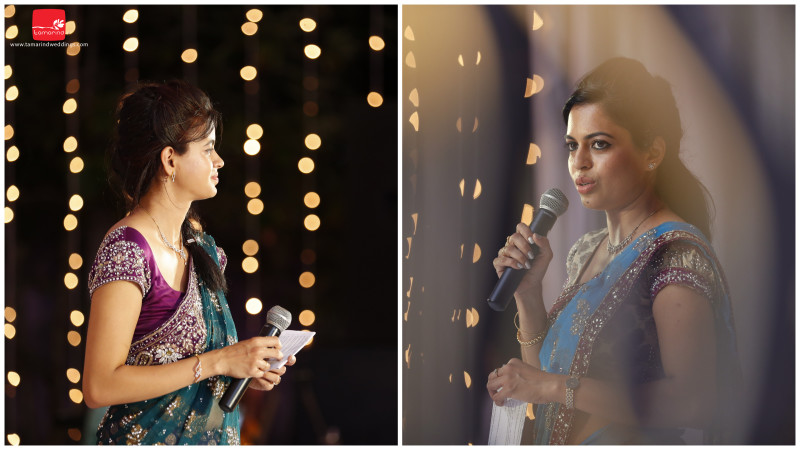 The Emcee, or the Master of Ceremony, is one of the most important factors in the success of a wedding reception. While you do not always have to go for a professional compere for your wedding, you can choose someone from your family or friends so that they can lend their special personal charm towards the compere script.
The emcee could be your sister, brother, favorite aunt or best man! These people will know you and your fiancé better than anyone else and will have a fair idea of how you want your wedding to be. Another advantage that a family member has is the familiarity with family members and their names. Even the guests would be able to connect more with a known face, rather than an outsider.
For all looking for words to say on stage, here is a compere script which can captivate your audience at the wedding:
"Good evening ladies and gentlemen. May I have your attention please? As we are about to begin our reception, kindly remain seated and make yourself comfortable.
Dear friends and loved ones, welcome to (Bride's and Groom's names)'s wedding reception. I am (Emcee's name),  your emcee for today. Firstly, I would like to thank all of you who have made it here today from across the globe to celebrate with (Bride and Groom) as they venture into this new journey.
Let there be spaces in your togetherness. Let the winds of the heavens dance between you. Love one another but make not a bond of love: Let it be rather a moving sea between the shores of your souls.
So without any further ado, let us all give our warmest welcome to them. Please rise and put your hands together for the new bride and groom!
(Welcoming Bride and Groom)
Congratulations from all of us! As you start together this new journey in life, I pray to God that may you never have to take your hands apart. Before anything else, we would like to acknowledge the people who took a great part of this joyous affair; for without their support, this would not have been made possible.
Ladies and gentlemen, it is with great pleasure that I introduce to you the parents of the bride and groom (Names of Parents, quick introduction about both sets of parents, siblings, what they do, etc).
(As the emcee introduces the family, they walk up on stage.)
As (Bride and Groom) embark embark on this journey together, I invite their parents to come forward and light the candle/lamp.
Firstly, I invite (Bride's Parents) to jointly light the candle.
(Bride's Parents to light the candle)
Next, I invite (Groom's Parents) to light the candle.
(Groom's Parents light the candle)
Finally, I humbly invite (Bride and Groom) to light the candle together, creating the circle of life to share their love and commitment towards each other forever
(Bride and Groom light the candle).
Thank you.
The cake is a symbol of a happy married life that the couple would enjoy from this day forward. Let us wish them a life full of love and joy.
So (Bride and Groom), I invite you to slice into this beautiful cake and exchange it among yourselves!
(Cake cutting)
(Bride and Groom remain on stage. Everyone else leaves the stage.)
Our maid of honor and best man will now give their speeches. I request (Bride's Friend's Name), our bride's friend and Maid of Honor, to say a few words
(Maid of Honor gives her speech).
I would like to call our best man, (Best Man's Names), (relation with Groom) to give his speech.
(Best Man's Speech)
(Bride and Groom), on behalf of all who have gathered here, I wish you the very best for your future together! You are a wonderful couple, perfect for each other. May your life together be blessed with love and magic! Congratulations once again!
Family, friends and loved ones, on the bride and the groom, I would like to thank you for gracing this occasion with your presence and blessings.
Have a nice evening and enjoy yourself! Thank you!
Tips to incorporate into your compere script:
1) For all those who are a sister, best friend or best man looking to host a wedding reception, adding a pinch of emotion, or sharing a great childhood memory would engage your listeners and make it an enjoyable event for your guests.
2) Always take names rather than refer to the position of the person in the family. It creates warmth.
3) Remember that as an emcee, you have the responsibility of carrying the event forward. You mustn't forget your role due to the presence of family on stage.
4) Most importantly, you must always keep eye contact with your guests, stand upright and be aware of everything that is happening on stage.
Keeping these points in your compere script will make you the family's favorite host!
Cover image: Asha and Nisha as the emcees at their younger sister, Anisha's wedding reception
Recent Posts
Recent Comments