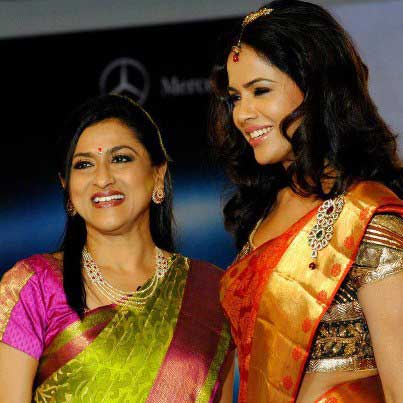 Every Keralite woman sees herself as a Goddess when she dons the reverent Silk Saree. Seematti pays a golden tribute to the women of Kerala by gifting them rare art works embroidered on six metres of silk : The Kancheepuram Saree.
Seematti is considered to be the mother of the blooming silk saree and bridal saree business in Kerala. What started as a small but promising store rose up to the challenge of facing a vibrant and constantly diversifying fashion sector and has today become synonymous with 'designer bridal wear' across India – All this, under the guidance of a lady named Beena Kannan.
Beena Kannan, the pillar behind the establishment of the House of Seematti, is leading her family-owned business into greater heights. Her rapport with weavers and vendors across the country and her understanding about sarees and its art has translated into her work. This thorough knowledge about the textile industry and its ins and outs when clubbed with the changing trends of the bridal fashion industry has made Beena Kannan one of the most respectable and creative entrepreneurs in bridal couture design.
Beena Kannan's fancy for clothing and material started at a very young age. Since her family was already in the business of creating textile art, she had no second thoughts on choosing designing as a full-on career.
Beena Kannan has become the face for undying professionalism and change in the bridal fashion industry. You can often see her in one of the floors of the Seematti store, attending to customers and clearing their mind of doubts and queries. This type of a 'Shopping Guidance' offered by Beena Kannan is extremely valuable for brides and unique to Seematti.
She says, "Brides should give importance to the softness and comfort of the saree on their big day. They should go for light-weight models which will suit their height, body structure and complexion. Traditional Kancheepuram is most preferred for bridal wear. Nowadays, brides choose their bridal attire considering the preceding and succeeding days of the wedding."
Seematti has an unmatched image in the minds of the customer when coming to bridal fashion. Beena Kannan's personal attention to brides and her involvement in personalizing the bridal attire is a great bonus when shopping at Seematti.
But the brides of Kerala are constantly changing in their appeal for sarees. Shifting from traditional colours and materials, brides nowadays prefer a lot of 'bling, bling and wow' in their sarees! They like sarees which are soft and smooth and easy to manage! There is also a growing trend among new brides : Thick borders and heavy work is avoided.
Beena Kannan has been quick to notice these changes arising in the bridal attire industry. She has turned her enterprise to represent these changes. Beena Kannan's Seematti has also branched into developing Men's wear, lehengas, anarkalis and kids wear products.
Seematti's latest range is a special for teens! – 'My First Saree' is aims at giving the young tech-saavy woman a sense of pride in buying her first real Kancheepuram saree, one which she will always remember!
Apart from designing world-class bridal sarees, Beena Kannan loves to dance and engage in horticultural activities. These traits make this entrepreneur a super woman we can all look up to!
More on Seematti and Beena Kannan :
Wikipedia : http://en.wikipedia.org/wiki/Beena_Kannan
Seematti : http://seematti.com/
If you would like to know more about Seematti and their bridal shopping assistance, contact at : smtekm@gmail.com
Recent Comments